Product Description
Electric Timotion Dual-Motor 3-Stage Height Adjustable Table, 4-Leg and Face-to-Face Design
Feature:
4-Leg and face-to-face design, good for open office concept;
Dual motor lift machanism provides a smoother height adjustments from 25-1/5''-50-4/5'', being easily operated and motorized to sit or stand while working;
3-stage Legs are in square shape with side holes, which enjoy lighter weight than legs without side holes;
Very stable and whisper quiet; Silent operation and help maintain a peaceful workspace;
LED backlight control panel constantly displays the height of desktop.
Programmable digital memory with 4 height settings by managing the button on the controller;
Metal structural parts are made of high quality cold-rolled sheet metal;
Table bases are equipped with direction adjustment pads which appress the floor, making the table stable.
Control box adopts advanced technology switch power supply which is more energy-saving and environmental friendly; The voltage is universal;
Help prevent obesity, lumber vertebra, back pain and so on to maintain a heathier work conditions.

Height Adjustable Desk Product Details: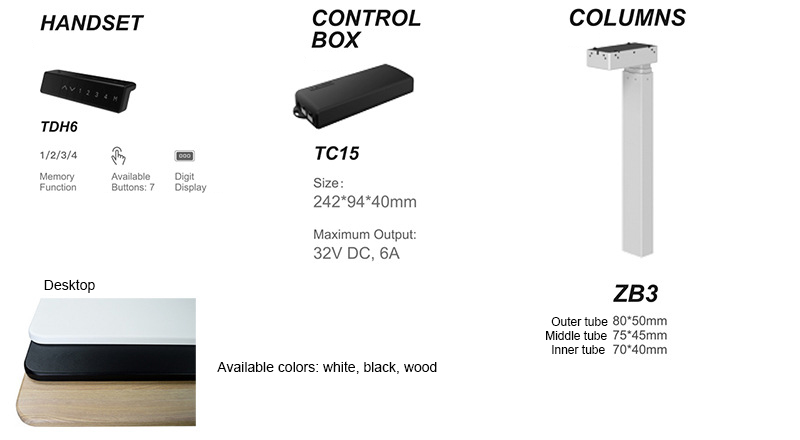 Adjustable Office Desk | Height Adjustable Standing Desk
What Kinds of Adjustable Office Desk does Venace have?
To maintain a healthy work style is a new pursuit for many office workers nowadays, and an Adjustable Office Desk may be a good solution. So usually what kinds of standing desks do office workers choose?
Venace has 8 types of Height Adjustable Standing Desks for customers to choose, including dual-motor 2-stage, 3-stage Adjustable Office Desk, face-to-face height adjustable desk, L-shape desk, single-foot height adjustable coffee table, etc. Among them, a Face-to-Face Desk is new to many users and it seems to be a good choice for some of you.
What is a Face-to-Face Adjustable Office Desk?
The most obvious feature of this type of desk is that it has 4 legs which are like the combination of two standing desks looking towards. It is with three stages and one motor in each lifting column, which means four motors in total. It is inspired by the open office concept of which employees can share the same table frame but have their own working space.
Some people may hold the reservation about this design since they may doubt that users on the opposite side of the desk may have an influence on each other, such as the noise or shaking when adjusting the desk. But actually, it is no need to worry about all these problems. Venace's Adjustable Office Desks have metal structural parts that are made of high-quality cold-rolled sheet metal. The table bases are all equipped with pads which can adjust the direction and they are appressed on the floor to make the table more stable.
Are you interested in this Face-to-Face Adjustable Office Desk now? If you are finding the height adjustable office desk for making your working area comfortable, please do not hesitate to visit Venace.com!